Contracts between asset managers and asset owners are crucial documents, but their wording can inadvertently encourage short-term investing decisions. So says a new report 'Institutional Investment Mandates: Anchors for Long-term Performance' from FCLTGlobal, a not-for-profit organization advocating longer-term focus for business and investment decisions.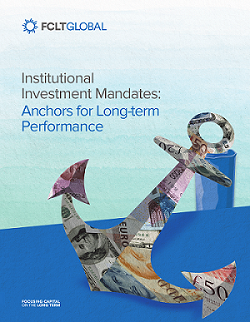 "Investment mandates have the power to be the anchor that aligns behavior and objectives, focusing asset managers on long-term value creation," says Mark Machin, CPPIB President and CEO. "At the outset of any new mandate, asset owners must deliberately work with their asset managers to clearly articulate the terms of investment contracts, making sure to align goals, incentives and key long-term performance indicators." 
FCLTGlobal's research included working groups, bringing together many leading global asset owners and managers. They discussed what's working, and ways to tailor investment mandates to bolster long-term success. CPPIB is a founding member of FCLTGlobal, and Poul Winslow, Managing Director, Head of Thematic Investing and External Portfolio Management, was among the project's collaborators.
The report suggests straightforward ways to improve investment mandates, including:
Those findings are of particular concern for long-term investors like CPPIB, which is charged with building the CPP Fund for generations of Canadians.
Replacing fee structures focusing on the size of investment accounts with those rewarding the length of working relationships. This would create incentives for asset owners to be patient with asset managers, and provide managers with a reliable source of capital for long-term investments. 
Changing ways results are reported to investors. Commentaries provided to investors should focus on long-term results. Further, something as simple as placing long-term returns in the left-hand column and short-term results on the right can help investors see why it's beneficial to hold assets longer. 
Tweaking manager evaluation processes, so investors consider criteria beyond portfolio performance; and set up routine meetings to discuss results. This can prevent meetings from being called by an investor when a portfolio is not performing as expected over the short term.
It is FCLTGlobal's hope that asset owners and managers will examine and consider adopting the report's provisions to help shift the focus toward long-term performance goals. Learn more about the work of FCLTGlobal at: http://www.fcltglobal.org/