All figures in Canadian dollars unless
otherwise noted.
TORONTO, ON (August 11,
2017): The CPP Fund ended its first quarter of fiscal 2018 on June 30, 2017,
with net assets of $326.5 billion, compared to $316.7 billion at the end of
fiscal 2017. The $9.8 billion increase in assets for the quarter consisted of $5.7
billion in net income after all CPPIB costs and $4.1 billion in net Canada Pension Plan (CPP) contributions. The portfolio
achieved 10-year and five-year net nominal returns of 6.9% and 12.1%,
respectively, and a gross investment return of 1.9%, or 1.8% net of all costs,
for the quarter.
"Our strategy has delivered strong and stable returns over
the five- and 10-year periods. We continue to position the Fund for future
growth while seeking stability through diversification," said Mark Machin, President & CEO, Canada Pension Plan
Investment Board (CPPIB). "Each major CPPIB investment program
contributed to first quarter results.
Global equity markets produced a significant uplift and gains from fixed
income improved. Meanwhile, the strengthening Canadian dollar against most
major currencies applied downward pressure, a trend that accelerated in the first
half of the current quarter."
Long-Term
Sustainability
CPPIB's 10-year annualized net nominal rate of return of 6.9%,
or 5.2% on a net real rate of return basis, was above the Chief Actuary's
assumption of expected performance over this same period. The real rate of
return is reported net of all CPPIB costs to be consistent with the Chief
Actuary's approach.
In the most recent triennial review released in September
2016, the Chief Actuary of Canada reaffirmed that, as at December 31, 2015, the
CPP remains sustainable at the current contribution rate of 9.9% throughout the
forward-looking 75-year period covered by the actuarial report. The Chief
Actuary's projections are based on the assumption that the Fund's prospective
real rate of return, which takes into account the impact of inflation, will
average 3.9% over 75 years.
The Chief Actuary's report also indicates that CPP
contributions are expected to exceed annual benefit payments until 2021, after
which a small portion of the investment income from CPPIB will be needed to
help pay pensions. In addition, the report confirmed that the Fund's
performance was well ahead of projections for the 2013-2015 period as
investment income was 248%, or $70 billion, higher than anticipated.
The CPP's multi-generational funding and liabilities give
rise to an exceptionally long investment horizon. To meet long-term investment
objectives, CPPIB continues to build a portfolio designed to generate and
maximize long-term returns at an appropriate risk level. Accordingly, long-term
investment returns are a more appropriate measure of CPPIB's performance than
returns in any given quarter or single fiscal year.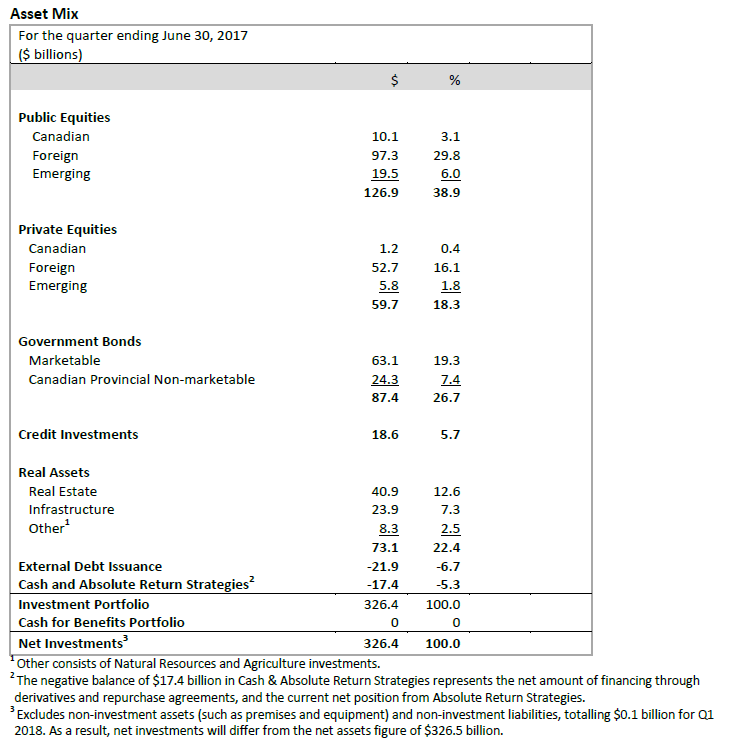 Q1 Investment
Highlights:
Public Market
Investments
·     
Committed to invest €200 million in Elis SA (Elis), a
multi-service leader in the rental, laundry and maintenance of flat linen,
workwear and hygiene and well-being appliances in Europe and Latin America, to support
Elis' acquisition of Berendsen Plc. The investment would increase CPPIB's
ownership stake in Elis to approximately 7.7% and is subject to certain
conditions, including shareholder approval.
Investment Partnerships
·      Signed an agreement alongside Baring
Private Equity Asia to acquire all the outstanding shares of, and to privatize,
Nord Anglia Education, Inc. (Nord Anglia) for US$4.3 billion, including the
repayment of debt. Nord Anglia operates 44 leading premium international schools
globally in 15 countries in Asia, Europe, the Middle East and North America. The
transaction is subject to shareholder approval and customary closing
conditions.
Private Investments
·     
Committed equity with Encino Energy, LLC to form
Encino Acquisition Partners (EAP). CPPIB has committed up to US$1.0 billion to
EAP, which will focus on acquiring large, high-quality oil and gas assets with
an established base of production in mature basins across the lower 48 states
of the United States.
·     
Invested US$141 million in the debt financing
supporting Golden Gate Capital's acquisition of Express Oil Change & Tire
Engineers (Express Oil Change). Based in Alabama, Express Oil Change is a
leading automotive service provider in the southern U.S. with more than 300
locations across 15 states.
·     
Acquired Ascend Learning LLC (Ascend), a leading
provider of educational content, software and analytics solutions, in
partnership with private equity funds managed by Blackstone and Ascend
management.
Real Assets
·     
Entered into a definitive agreement to acquire
100% of Parkway, Inc. (Parkway), a Houston-based real estate investment trust, for
US$1.2 billion. Parkway owns the largest office portfolio in Houston, totalling
approximately 8.7 million square feet across 19 properties. The transaction is
not subject to a financing condition and is expected to close in the fourth
quarter of 2017, subject to customary closing conditions, including approval by
Parkway's stockholders.
·     
Formed a joint venture with IndoSpace, known as
IndoSpace Core, that will focus on acquiring and developing modern logistics
facilities in India. CPPIB has initially committed approximately US$500 million to the joint venture and will own a significant majority stake.
IndoSpace Core has committed to acquire 13 industrial and logistics parks
totalling approximately 14 million square feet, from current IndoSpace
development funds.
·     
Acquired the 30 Bay Street site in Toronto,
Ontario, alongside Oxford Properties Group (Oxford) from PortsToronto. CPPIB
and Oxford will each own a 50% stake. The total transaction is valued at C$96 million. The site is located near a major transportation hub and growing
urban residential area.
·     
Formed a strategic investment platform with The
Phoenix Mills Limited (PML) to develop, own and operate retail-led mixed-use
developments across India. CPPIB will initially own 30% in the platform, known
as Island Star Mall Developers Pvt. Ltd., a PML subsidiary, which owns Phoenix
MarketCity Bangalore, for an equity investment of approximately C$149 million.
CPPIB's total commitment to the platform is up to approximately C$330 million,
which will increase CPPIB's stake in the platform up to 49%.
Asset Dispositions:
·     
Signed an agreement to sell CPPIB's 25% stake in
AWAS, a Dublin-based aircraft lessor, to Dubai Aerospace Enterprise. The sale
was made alongside Terra Firma. CPPIB had been an investor in AWAS since 2006.
Investment highlights
following the quarter end include:
·     
CPP Investment Board Europe S.à r.l., a wholly
owned subsidiary of CPPIB, and Allianz Capital Partners signed an agreement
with Gas Natural Fenosa to acquire a 20% minority equity interest in its gas
distribution business in Spain (GNDB) for €1.5 billion. CPPIB will invest €900
million and Allianz will invest €600 million. GNDB is the largest gas
distribution network in Spain with more than
5.3 million connection points and serving some 1,100 municipalities. The
transaction is subject to customary closing conditions and regulatory
approvals.
·     
Committed to invest US$400 million of equity in
WME| IMG, a global leader in entertainment, sports and fashion, representing an
8% minority interest in the company. WME| IMG specializes in talent
representation and management; brand strategy, activation and licensing; media
production, sales and distribution; and event management.
·     
CPPIB Credit Investments Inc., a wholly owned
subsidiary of CPPIB, agreed to provide a £250 million subordinated facility to
intu properties plc (intu). The subordinated facility will support intu's
corporate business plans and is indirectly secured by intu Trafford Centre in
Manchester, one of the U.K.'s top five shopping centres.
·     
CPPIB Credit Europe S.à r.l., a wholly owned
subsidiary of CPPIB, acquired the rights to a portion of future royalties in
venetoclax, a cancer treatment drug, from the Walter and Eliza Hall Institute
of Medical Research. The transaction includes a cash payment of US$250 million
upfront and potential milestone payments up to US$75 million.
·     
Acquired a 50% equity stake in Milton Park, one of
Europe's largest integrated business, science and technology parks, from Hermes
Investment Management for approximately £200 million. Located in the Thames
Valley region of the U.K., Milton Park is home to over 250 organizations
employing over 9,000 people.
·     
Entered into a strategic partnership with
Vermilion Energy Inc. (Vermilion) in the Corrib Natural Gas Field in Ireland
(Corrib). Under the partnership, CPPIB Europe S.à r.l., a wholly owned subsidiary of
CPPIB, has entered into a definitive purchase and sale agreement with Shell
Exploration Company B.V. (Shell) to acquire 100% of Shell E&P Ireland
Limited, which holds Shell's 45% interest in Corrib, for total cash consideration
of €830 million. Vermilion will operate the Corrib assets after completion of
the acquisition. The transaction is subject to customary conditions and receipt
of all necessary government consents.
Corporate Highlights:
·     
After quarter end, announced the following
senior executive appointments:
o  Neil
Beaumont joined CPPIB as Senior Managing Director & Chief Financial and
Risk Officer on July 24, 2017, assuming an expanded role reflecting CPPIB's
continued focus on rigorous risk management across the organization. Neil was
most recently Vice-President, Finance, Minerals Americas, at BHP Billiton.
o  Graeme
Eadie transitioned from his role as Global Head of Real Assets after 12 years
with CPPIB, and continues to work in a general management role with a focus on
investment approval processes.
o  Ed
Cass was appointed Senior Managing Director & Global Head of Real Assets.
Ed joined CPPIB in 2008 and was most recently Senior Managing Director, Chief
Investment Strategist for CPPIB.
o  Geoffrey
Rubin was appointed Senior Managing Director & Chief Investment Strategist,
and joined CPPIB's Senior Management Team. Geoffrey joined CPPIB in 2011 and
was most recently Managing Director, Head of Portfolio Construction and
Research.
·     
CPPIB Capital Inc. (CPPIB Capital), a wholly
owned subsidiary of CPPIB, completed an international debt offering of
seven-year term notes totalling €2 billion. CPPIB utilizes a conservative
amount of short- and medium-term debt as one of several tools to manage our
investment operations. Debt issuance gives CPPIB flexibility to fund
investments that may not match our contribution cycle. Net proceeds from the
private placement will be used by CPPIB for general corporate purposes.
About Canada Pension Plan
Investment Board
Canada Pension Plan Investment Board (CPPIB) is a
professional investment management organization that invests the funds not
needed by the Canada Pension Plan (CPP) to pay current benefits on behalf of 20
million contributors and beneficiaries. In order to build a diversified
portfolio of CPP assets, CPPIB invests in public equities, private equities, real
estate, infrastructure and fixed income instruments. Headquartered in Toronto,
with offices in Hong Kong, London, Luxembourg, Mumbai, New York City, São Paulo
and Sydney, CPPIB is governed and managed independently of the Canada Pension
Plan and at arm's length from governments. At June 30, 2017, the CPP Fund
totalled $326.5 billion. For more information about CPPIB,
please visit www.cppib.com or follow us on LinkedIn
or Twitter.