Lenin's well-known quote "There are decades where nothing happens; and there are weeks where decades happen" could very well be applied to the field of artificial intelligence.
In November 2022, artificial intelligence (AI) went mainstream. OpenAI, the San Francisco research lab backed by Microsoft to the tune of US$13 billion, unleashed ChatGPT, an application capable of writing poetry, answering questions, generating code, and planning vacations, among other pursuits. Two months later, Alphabet followed with its own LaMDA-powered experimental chatbot, Google Bard, and the race was on.
The Age of AI has begun, ushered in by the transformative power of generative AI, a type of artificial intelligence that can "generate" or produce new content, including text, images, music, video, synthetic data, and more when directed with simple text prompts in natural human language. We're still in the early days of this technology, but it's increasingly clear that generative AI represents a transformative technology that will change the way we learn, work, and create across all industries, with massive long-term economic and societal implications.
The combination of a natural language user interface and massive online digital distribution will increase access to this technology far beyond its usual developer-community confines, touching everyone with an internet connection. We expect this new era in AI to have long-term investment and operational implications for investors.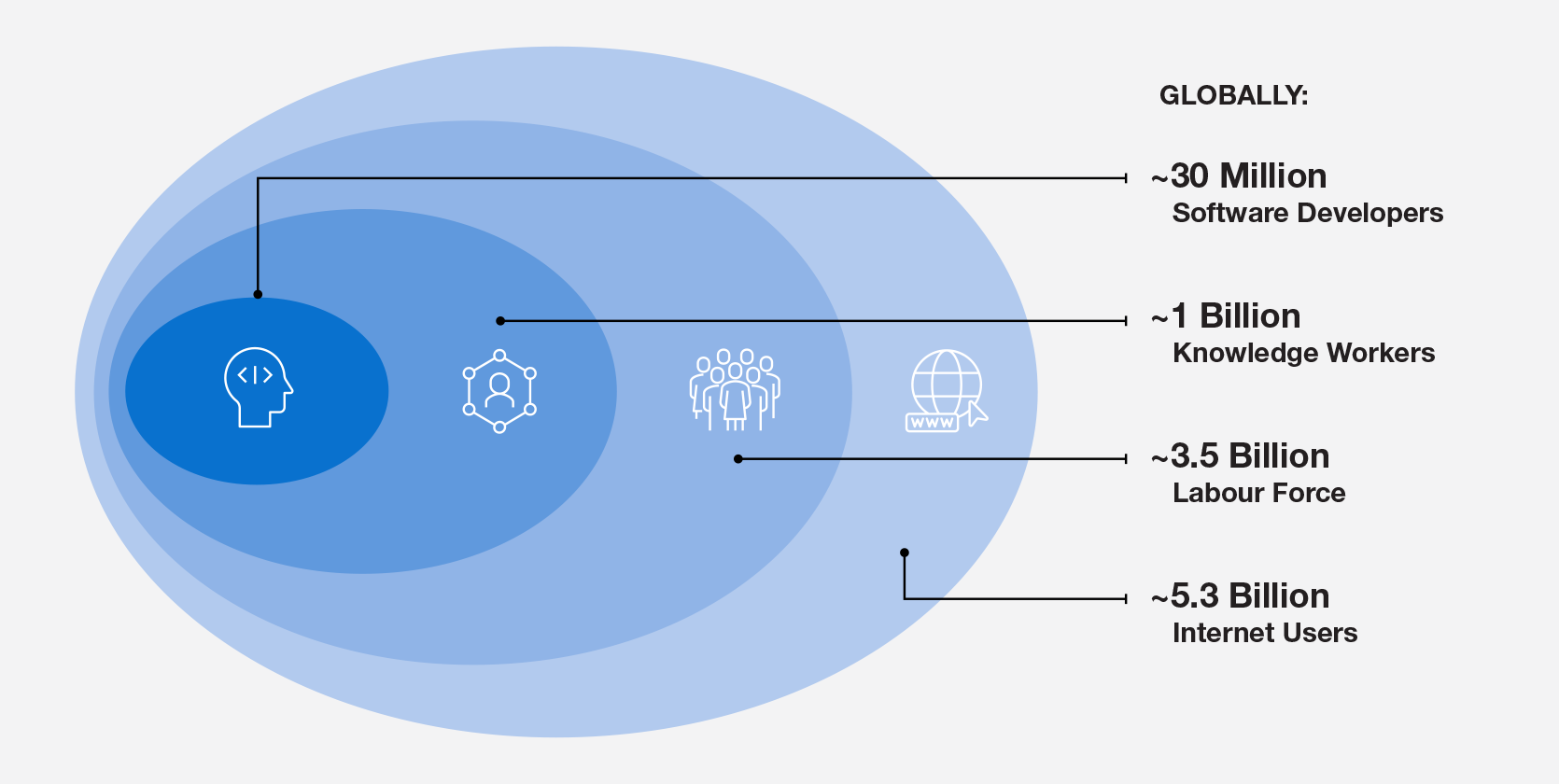 Source: State of the Developer Nation Report, Gartner, World Bank and CPP Investments analysis
A conceptual framework to research investment opportunities in AI
We believe AI is the next platform shift after personal computing, mobile, and the cloud. At CPP Investments, we're using the following framework to help determine potential investment opportunities: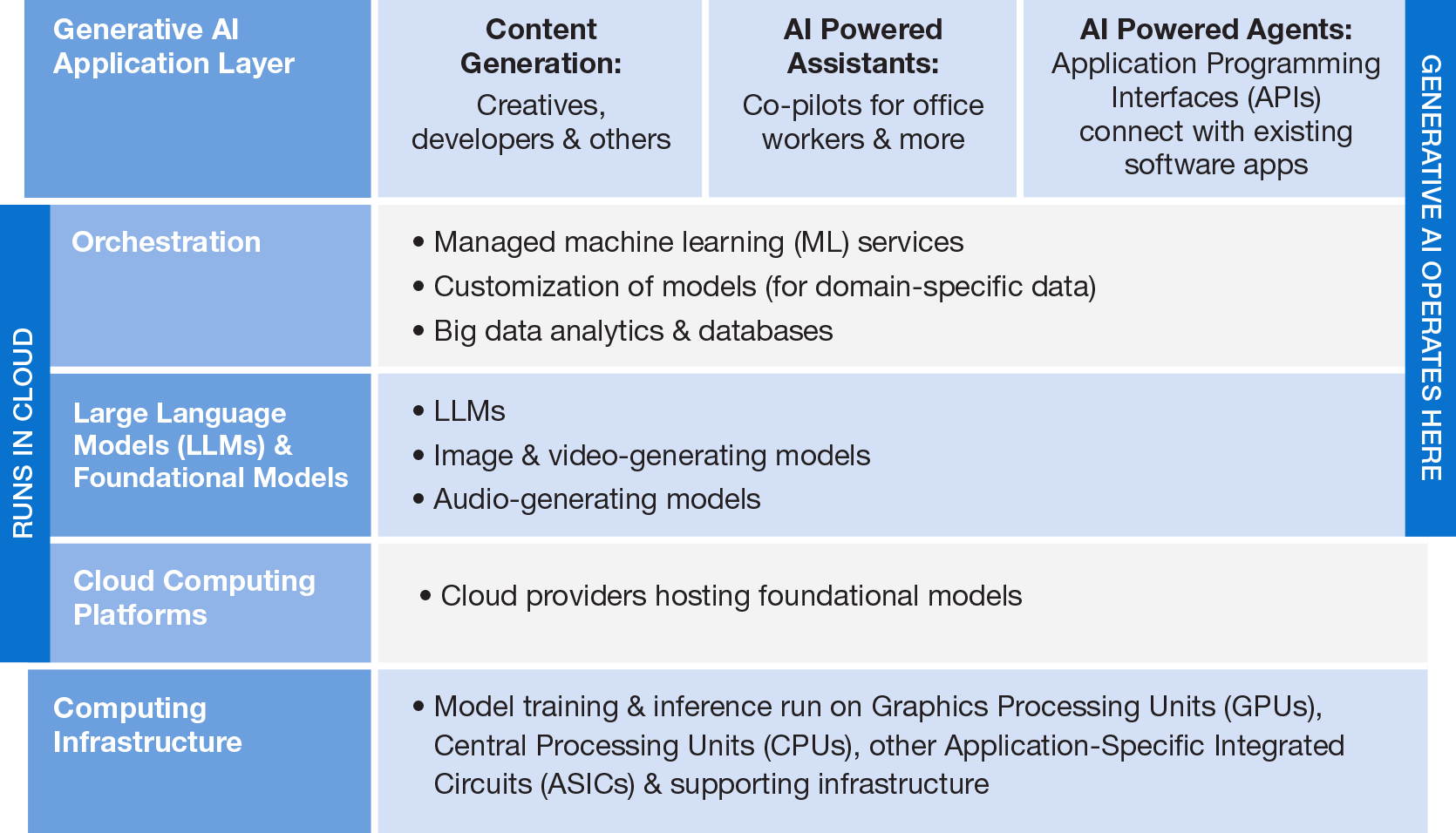 Source: CPP Investments analysis
This framework continues to evolve as many moving parts impact an investor's ability to forecast how this value chain will develop with certainty. Investors, like us, will need to iterate their conceptual models frequently, and challenge assumptions on where value will accrue.
We anticipate companies across all industries will be compelled to develop their own internal AI roadmaps, experiments, and use cases for deploying generative AI applications. This will likely lead to a series of new investment opportunities as companies deploy strategies and strike up partnerships across the AI and cloud computing eco-systems. We're seeing this dynamic already starting to take shape within the technology eco-system, with partnerships forged between Microsoft and OpenAI, Google and Anthropic, and Amazon and Hugging Face, as early examples.
A growing number of software as a service (SaaS) companies may redefine their product roadmaps and demonstrate how they plan to incorporate generative AI into existing applications and new products. There may also be a growing role for cybersecurity companies in the generative AI era, to prevent bad actors and incorporate more advanced data protection.
On the technical front, we'll be monitoring how large language models (LLMs) will continue to evolve in size, reliability, ability to predict with even higher levels of accuracy, and understanding of human context. We will also monitor how LLMs grow, over the long-term, in their ability to reason through human interaction with natural language.
The importance of investing responsibly in AI
The AI revolution is profound but it's similar to earlier revolutions (pre-industrial, industrial, internet, etc.) that have led to structural and societal change – although opinions abound about the speed and magnitude of AI's impact. While the industrial revolution catalyzed social change (e.g., the growth of cities and rise of the middle class), the underpinning – and continued consumption – of traditional energy has also given us climate change, one of the most pressing challenges facing society today. Can we learn from history to be more pro-active in managing the long-term impacts of the AI revolution?
Even as AI generates consumer benefits and business value, it also gives rise to a host of risks. Disparate outcomes such as biased hiring, unfair lending practices, incorrect medical diagnoses, and runaway surveillance expose businesses to reputational damage, political risk, legal action, and loss of consumer trust. Investors will likely need to change the way they diligence and invest in increasingly AI-enabled businesses, as well as develop governance frameworks on how portfolio companies adopt AI-enabled tools for their operations.
Organizations around the world, from the Organization for Economic Co-operation and Development to big tech firms, are working to develop principles around responsible artificial intelligence, or RAI (an approach to developing, assessing, and deploying AI systems in a safe, trustworthy, and ethical way) to minimize risks and optimize outcomes. Together, the CPP Investments Insights Institute and the World Economic Forum have spoken with over 80 experts, from institutional investors and academics to representatives from venture capital firms and technology companies, as well as other sectors of the AI ecosystem, to explore what it means to invest responsibly in artificial intelligence.
These interactions with experts have exposed both the immense potential of AI and the material benefits of investing in it responsibly. The discussions have also highlighted the need for appropriate metrics to assess AI's alignment with and performance against RAI principles, and for practical methodologies to integrate AI-related factors into investment decisions.
Over time, investors will likely need to adopt similar principles and frameworks for other emerging business risks, like climate change. If it is a material opportunity for a company to deploy AI into its operations, we expect the company board to ensure it is appropriately overseeing and counseling the executive team to do so in such a way where risks are mitigated, and opportunities are appropriately captured. To this end, CPP Investments expanded our definition of sustainability-related factors to include responsible sourcing and use of AI in our recently updated 2023 Policy on Sustainable Investing.
Looking ahead
AI will be an important part of businesses everywhere regardless of sector or geography. Given the significant impact AI will undoubtedly have, investors will need to consider the long-term implications of AI and the associated risks and opportunities, and to determine effective ways to use AI to preserve and create enduring value.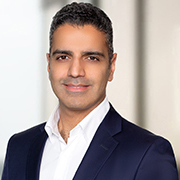 Nadeem Janmohamed
Managing Director, Active Equities North America
Nadeem Janmohamed, Managing Director in our Active Equities North America team, leads CPP Investments' Technology investment domain, which spans public and pre-IPO equity investments in software, cloud, semiconductors, IT hardware and electronic systems.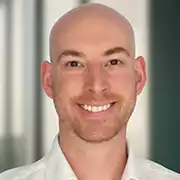 Chris Gillam
Director, Operational Risk
Chris Gillam, a Director in our Operational Risk team, is on secondment to the CPP Investments Insights Institute where he is studying technology disruption. Chris is also a Fellow with the World Economic Forum's Responsible Investing in Artificial Intelligence project.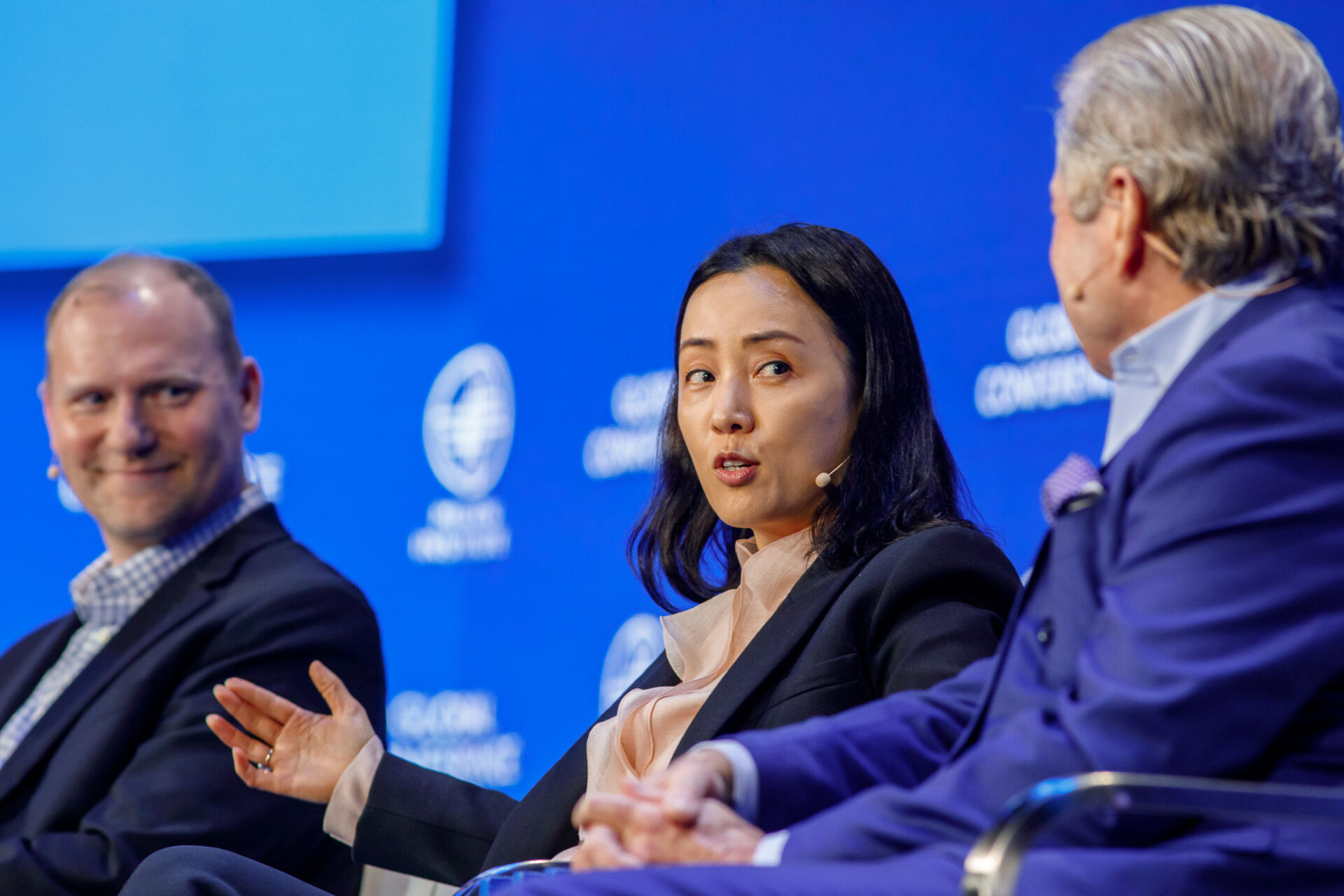 The questions asked, and themes raised, promise to dominate headlines in the years to come.
As AI changes the future of work, what's the most important skill that schools need to teach? Hear Jordan's take.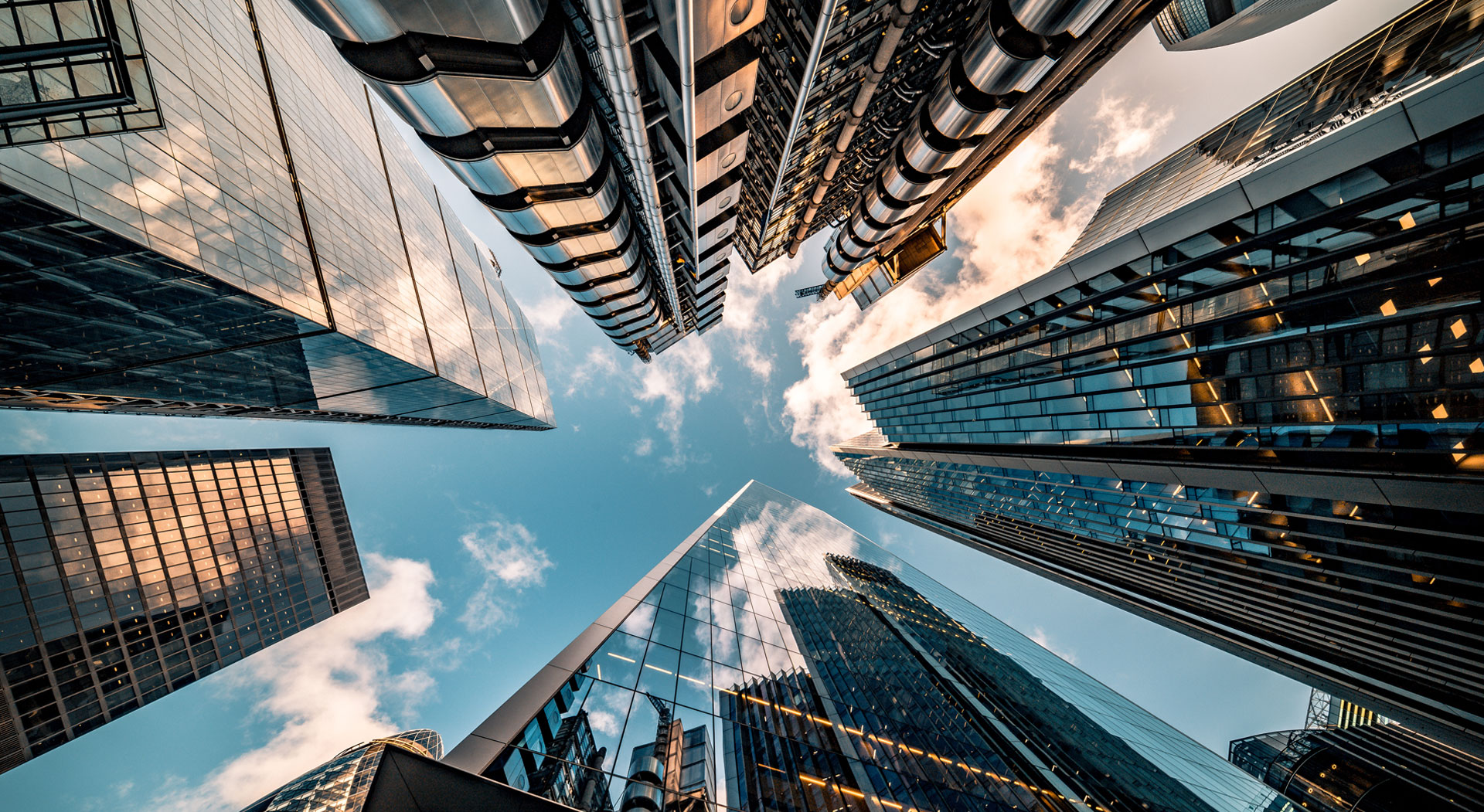 This Q&A was first published by iConnections, what follows are insights from CPP Investments leaders.