In just over 20 years, we've helped grow the Canada Pension Plan (CPP)'s assets from $36 billion to $570 billion. This growth recently received global recognition – Global SWF named CPP Investments as one of the top-ranked global pension funds.
Global SWF averaged the annual returns of some of the largest global public pension funds over a ten-year period. According to the report, CPP Investments delivered the highest 10-year returns of any global pension fund. Between 2013-2022, the study found that on average, other public pension funds returned 7.4%, while the CPP Fund grew 10.9%.
We're honoured to receive this recognition, but what makes us most proud is that we're continuing to grow the CPP Fund so money will be there for you when you retire.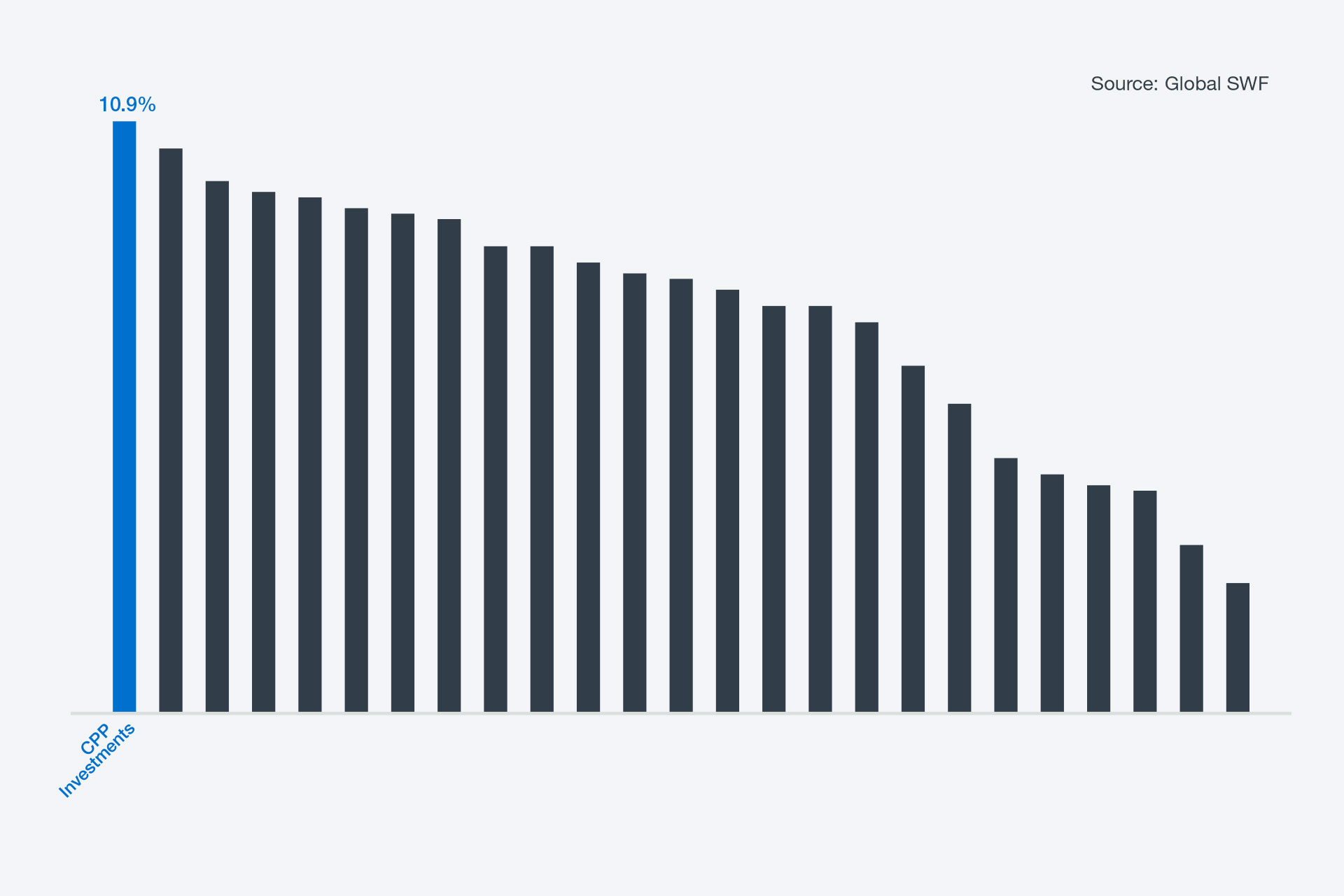 Addressing Canada's retirement crisis
The CPP was not always sustainable. In 1995, the Chief Actuary of Canada found that the CPP was in danger of running out of funds by 2015 unless action was taken. In response, Canada's federal and provincial governments came together with a common goal – create retirement security for future generations of Canadians.
It was no small feat. It required a series of reforms to the CPP, including establishing the Canada Pension Plan Investment Board (now CPP Investments), an independent investment organization tasked with managing the CPP Fund.
Creating a world-leading investment organization

The success of the CPP Fund is not by chance, it's by design.
First, we have a mandate to maximize the returns of the CPP Fund without undue risk of loss. Second, we operate at arms-length from government, meaning we make investment decisions free from any governments' agenda. Finally, we focus on long-term growth and stability, meaning we don't get too caught up in short-term ups and downs.
This pension model has served Canadians well. We continue to navigate periods of economic uncertainty and remain on course to deliver strong long-term returns.
Maintaining a reliable source of retirement income
Despite major declines in financial markets this past year, our portfolio stayed strong and delivered stable returns, while outperforming major indexes. But as we said earlier, we don't get too caught up in the short-term.
What matters most is the long-term sustainability of the CPP Fund. The Office of the Chief Actuary of Canada (OAC) assesses the financial sustainability of the CPP every three years. But unlike in its 1995 report, the OAC's 2022 report found the CPP is projected to be financially sustainable for the next 75+ years.
Built for Canadians, by Canadians – CPP Investments is a success story of how remarkable federal-provincial collaboration created a world-renowned investor. Canadians from coast to coast can rely on CPP Investments to build a strong foundation for their retirement, now and for decades to come.
Update to Contributors & Beneficiaries
We invest and help grow the CPP Fund to help ensure money will be there for Canadians in retirement, now and for generations to come.
Sign up for our latest news, insights, reports and other information about CPP Investments