CPPIB held its fourth international Board Meeting in late June in Latin America. This region is important for CPPIB, providing enormous investment opportunity as we initiate our 2025 growth strategy and invest one third of the Fund in emerging markets.
The international Board Meeting program allows our senior management and Board to enhance their knowledge of each region and understand the various opportunities and challenges we have when deploying capital there. By hosting this year's Meeting in Brazil and Chile, CPPIB leadership gained first-hand perspective and direct access to input from our local Brazil team, regional experts and family-owned businesses aligned with our long-term investment horizon. Discussions covered everything from the growing middle class, to privatization, to an intense field of peers and competitors.
Hosted by our Managing Director & Head of Latin America, Rodolfo Spielmann, the week-long event garnered attendance from CPPIB's Board and SMT as well as high-profile guest speakers. At an informal welcome dinner, our Board and SMT were given a rich overview of Brazil's political landscape by Dr. Murillo de Aragão of Arko Advice. This was supplemented by a panel luncheon on long term ownership with Brazilian family investors: João Moreira Salles of Brazilian family office Cambuhy SA and Roberto Setubal, co-Chairman of the Board of Itau Unibanco, Latin America's largest financial conglomerate. Plus, guests heard from Ms. Lucia Santa Cruz, one of the Chile's brilliant thinkers, who shared unique insight on the changing dynamics of Chilean society in an informative fireside chat.
The Board Meeting also enabled leadership to connect one-on-one with committed partners. Votorantim Group, a partner in a joint venture in which CPPIB invested C$272 million to acquire two operational wind parks, hosted a presentation by CEO João MIranda. Other notable meetings included presentations by both Ambev and Aliansce and a site visit to Grupo Costanera, the largest urban toll road operator in Chile in which CPPIB invested C$1.14 billion in 2012.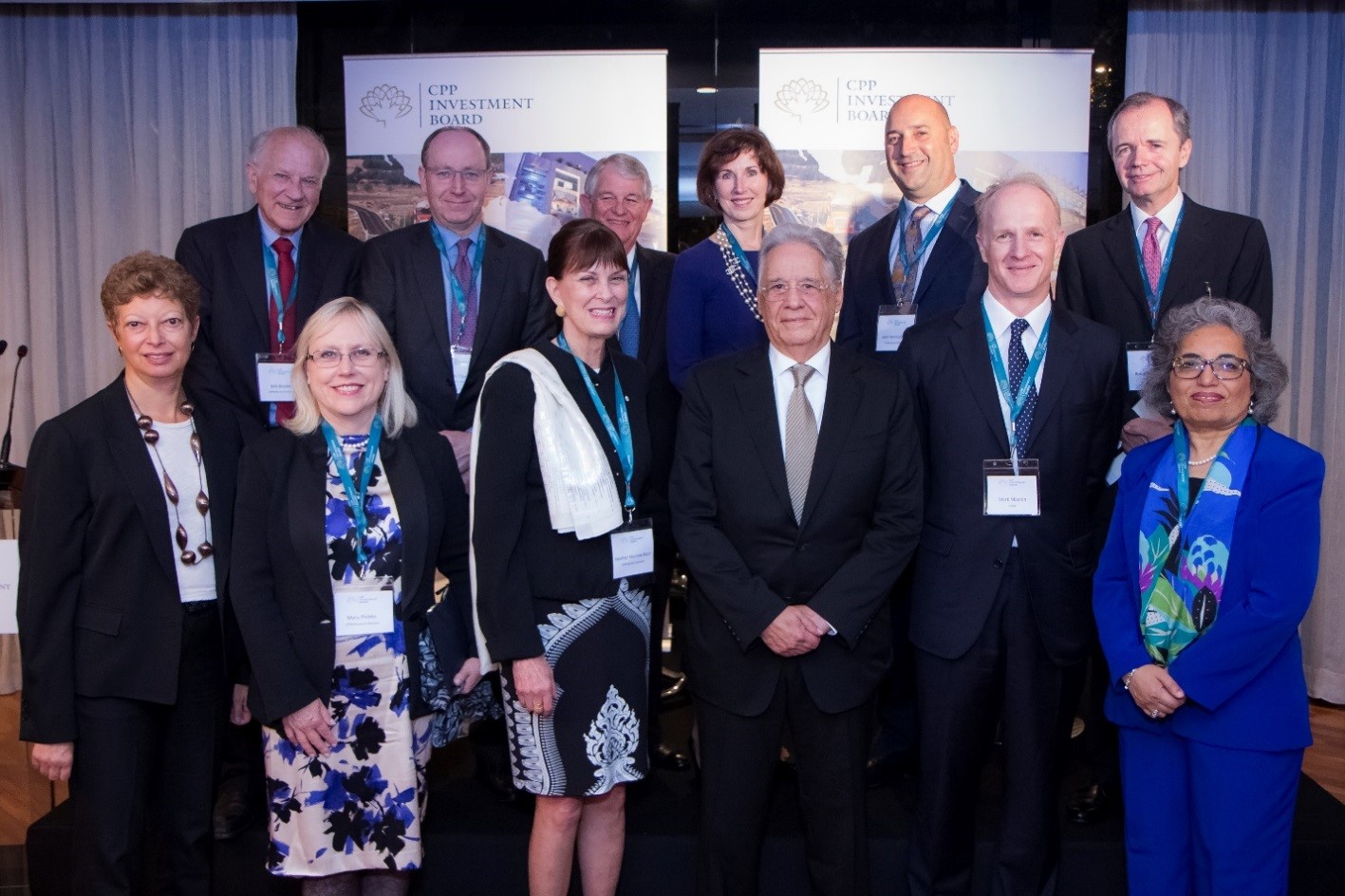 Further, a community reception dinner provided 86 guests, including Mr. Stéphane Larue, Consul General of Canada, the privilege to join His Excellency the Former President of Brazil, Fernando Henrique Cardoso for an exclusive fireside chat. The Q&A prompted discussion of changing dynamics in Brazilian society and the resulting impact on the economy, growth and investment outlook.
The program also included a media program with local Brazilian press.  Brazil's leading business newspaper, Valor, interview with Mark Machin and Rodolfo Spielmann highlighted CPPIB's focus on infrastructure and privatization processes within Latin America. Rodolfo Spielmann assured that purchases will continue to align with past regional deals, targeting stable performers in Brazil in partnership with operators. Mark Machin explained that a company's size also enhances its stability; this is why CPPIB invests in half billion dollar businesses and uses a long-term investment horizon to realize gains despite volatility.
Yet perhaps one of the most notable events of the 2018 Board Meeting was CPPIB's announcement: a C$175 million equity target for a 20% interest in the newly established Goodman Brazil Logistics Partnership. The deal not only capitalized on Brazil's growing demand for high-quality logistics spaces, but it also allowed CPPIB to add to the $13.2 billion already invested in Latin America.
CPPIB's Latin America Board Meeting occurred at the opportune time – our Board is now equipped with an in-depth understanding of the political and economic factors coming into play as the region approaches an uncertain electoral period. One thing is for certain, though: CPPIB believes in fostering tangible relationships with Latin America to enable us to achieve our strategic decision to invest up to a third of the Fund in emerging markets by 2025.