When it comes to preference for long-term planning – and the attendant short-term pressures that stem from executives, boards, investors and competitors – those at Chinese corporations have much in common with their global counterparts. 
So finds a first of its kind study from CPPIB, Hillhouse Capital Group and Caixin Global Intelligence & Caixin Media. Researchers surveyed respondents at more than 180 listed Chinese companies, both state-owned and non-state-owned, across 28 industries and with total market capitalization of US$2.41 trillion – approximately one quarter of China's total stock market capitalization. 
The survey finds Chinese companies place heavy emphasis on long-term planning. This is seen by the fact that only 18% of Chinese companies surveyed said they would delay a project that had long-term value but could potentially impact a desired earnings target. Similar research on companies worldwide puts that number significantly higher – closer to 50%. 
"The findings of this survey show that corporations in China have long-term aspirations, though this mindset can be impacted by various performance pressures. For instance we found that while Chinese businesses were reasonably good at thinking long term, the capital markets generally are not, leading to a disconnect," says Mark Machin, CEO of CPPIB.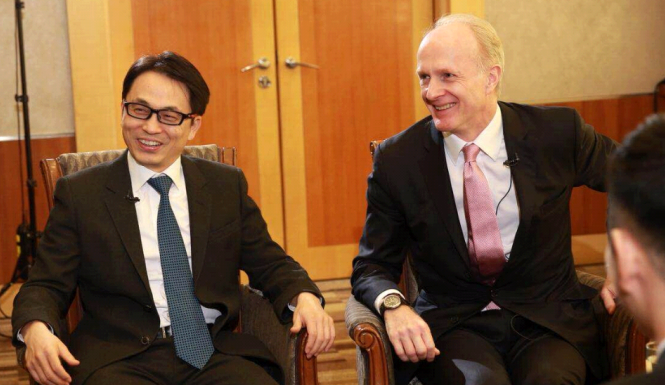 "Nurturing long-term corporate behavior, therefore, requires concerted and coordinated action among all market participants. CPPIB is a long-term investor in China, and we are well positioned to contribute to fostering a long-term oriented market environment that supports our partners, portfolio companies and ultimately benefits the CPP Fund. This survey is the first step to encouraging investors and companies to work together to promote long-term value creation and strategic planning in China, which will help to create more global champions."
Alongside all the research partners, Machin participated in a roundtable discussion on the study's findings, November 27th in Beijing. 
By the numbers, the study shows: 
80% of surveyed Chinese companies believe they do take a long-term view and have strategic plans for long-term value creation;
70% of companies indicate their long-term strategic plans are either moderately or well defined – with medium- to long-term valuation metrics and road maps in place, and remuneration tied to long-term value creation; and
89% report valuing stable leadership.
And, while Chinese companies do face short-term financial pressures – in some ways the source of those pressures differs. Sell-side analysts, debt holders and customers are cited as low sources of pressure. Meanwhile, 72% of respondents say executive teams are the biggest source of short-term pressure, followed by boards (62%), competitors (50%) and institutional investors (48%). 
Further, 51% of surveyed executives say they are evaluated based on performance in their current fiscal-quarter, or fiscal-year. 
China is in the process of shifting away from a manufacturing economy, to one based on services. While that change is expected to ease economic growth, 91% of surveyed companies say it also will spur adoption of longer-term thinking. Right now, 67% of new economy companies say they change their strategies every three, or fewer, years; by contrast, only 52% of old economy businesses report shifting strategy that quickly. 
Finally, the study's authors say coordination among market participants will do much to spur long-termism in China, noting: 
Investors should actively engage with corporations to encourage long-term value creation, rather than quarterly results; and ally with like-minded peers to promote public awareness of the benefits of long-termism. What's more, terms of mandates between asset owners and managers should be restructured to provide more long-term incentives.
Corporations need to set long-term targets and adopt metrics showing stakeholders how long-range performance is tracked. Periods for evaluating senior executives must extend beyond a single quarter, or year, and link remuneration to long-term value creation and strategic targets. And, companies should proactively communicate with investors about long-term goals to help them understand their importance to lasting growth and value creation.