All figures in Canadian dollars unless otherwise noted. 
TORONTO, ON (August 14, 2014): The CPP Fund ended its first quarter of fiscal 2015 on June 30, 2014 with net assets of $226.8 billion, compared to $219.1 billion at the end of fiscal 2014. The $7.7 billion increase in assets for the quarter consisted of $3.4 billion in net investment income after operating costs and $4.3 billion in net CPP contributions. The portfolio delivered a gross investment return of 1.6% for the quarter.
"Several factors contributed to the Fund's results this quarter beginning with the continuing advance of public equities globally, led by the Canadian market," said Mark Wiseman, President & Chief Executive Officer. "All of our programs reported positive investment returns during the quarter and we continued to further diversify the portfolio globally across various asset classes."
The Canada Pension Plan's multigenerational funding and liabilities give rise to an exceptionally long investment horizon. To meet long-term investment objectives, CPPIB is building a portfolio and investing in assets designed to generate and maximize long-term returns. Long-term investment returns are a more appropriate measure of CPPIB's performance than returns in any given quarter or fiscal year. 
Long-Term Sustainability
In the recent triennial review released in December 2013, the Chief Actuary of Canada reaffirmed that, as at December 31, 2012, the CPP remains sustainable at the current contribution rate of 9.9% throughout the 75-year period of his report. The Chief Actuary's projections are based on the assumption that the Fund will attain a prospective 4.0% real rate of return, which takes into account the impact of inflation. CPPIB's 10-year annualized nominal rate of return of 7.3%, or 5.4% on a real rate of return basis, is above the Chief Actuary's assumption over this same period. These figures are reported net of operating costs to be consistent with the Chief Actuary's approach.
The Chief Actuary's report also indicates that CPP contributions are expected to exceed annual benefits paid until the end of 2022, after which a portion of the investment income from CPPIB will be needed to help pay pensions.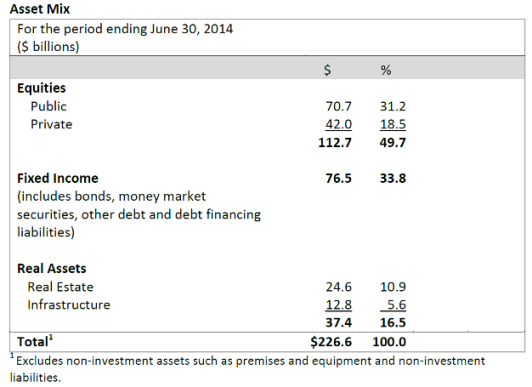 Investment Highlights:
Private Investments
· Announced CPPIB's first investment in India's infrastructure sector through an investment in the country's largest engineering and construction company. CPPIB's wholly-owned subsidiary, CPP Investment Board Singaporean Holdings I (CPPIBSH) signed an agreement to invest
US$332 million in the Larsen & Toubro Limited (L&T) subsidiary L&T Infrastructure Development Projects Limited, which owns the largest toll-road concession portfolio in India.
· Completed a US$596 million secondary private equity transaction related to the JW Childs Equity Partners III fund. As the lead investor, CPPIB indirectly invested US$477 million in companies formerly held by the JW Childs 2002 vintage fund and also committed US$119 million to JW Childs Equity Partners IV, a new fund targeting US$450 million in capital commitments from investors.
Public Market Investments
· Acquired 10.4 million common shares of Markit Ltd. at a price of US$24.00 per common share, as part of Markit's initial public offering. CPPIB's total investment of US$250 million represents an approximate 6% ownership interest. CPPIB has the right to nominate one director for appointment to Markit's Board of Directors. Founded in 2003, Markit is a globally diversified provider of financial information services with 22 offices in 10 countries.

· Acquired an additional 25 million shares in Kotak Mahindra Bank representing a 3.2% ownership stake. Including previous investments, CPPIB's total investment in Kotak is approximately $528 million representing a shareholding of 35.9 million shares and a 4.7% position.
Real Estate Investments
· Completed an additional investment of US$108 million to increase CPPIB's ownership interest in One Park Avenue to 45% through a joint venture with Vornado Realty Trust. CPPIB previously held an indirect stake of approximately 11% through its investment in the Vornado Capital Partners Parallel LP fund. The parties valued the property at US$560 million, including the assumption of US$250 million of debt.  One Park Avenue is a 20‑storey, 941,000 square foot Class A office building located in Midtown Manhattan. 
· Invested approximately €236 million in Citycon Oyj, a leading owner and developer of shopping centres in the Nordic region, through a directed share issue to CPP Investment Board European Holdings S.àr.l (CPPIBEH), a wholly-owned subsidiary of CPPIB and through a subsequent rights issue to all shareholders. Following both share issues, CPPIBEH holds 15% of the shares and voting rights in Citycon. The investment expands CPPIB's retail platform in the region.
· Entered into a joint venture with WAM Development Group and Walton Group of Companies to develop a 250 acre industrial site in northwest Edmonton, Alberta. The development project will result in the creation of approximately four million square feet of distribution and logistics warehouse space. CPPIB, Walton and WAM Development Group will share in the ownership structure of the development project, with CPPIB initially committing to approximately $200 million for phase one representing an 85% interest in the joint venture.
Asset Dispositions:
· Completed the disposition of two remaining assets of Tomkins, which were both acquired in 2010 as part of the joint acquisition of Tomkins by CPPIB and the Onex Group for approximately US$5.0 billion, of which approximately US$900 million was funded by CPPIB:
o Completed the sale of Gates Corporation alongside the Onex Group to private equity funds affiliated with Blackstone for US$5.4 billion. Gates was one of the divisions of Tomkins. After repayment of debt, proceeds from the sale of Gates to CPPIB were approximately US$1.5 billion.
o Completed the sale of Air Distribution Technologies, Inc. to Johnson Controls for a total consideration of approximately US$1.6 billion. CPPIB acquired Air Distribution from Tomkins in 2012 for US$1.1 billion, of which approximately US$500 million was funded with equity from CPPIB. After the repayment of debt, proceeds to CPPIB were approximately US$1 billion. 
Corporate Highlights:
· Welcomed the appointment of Dr. Heather Munroe-Blum as incoming Chairperson of CPPIB's Board of Directors. Dr. Munroe-Blum will succeed Robert Astley, CPPIB's Chairperson since 2008, upon the expiry of his term on October 26, 2014.

About Canada Pension Plan Investment Board 
Canada Pension Plan Investment Board (CPPIB) is a professional investment management  organization that invests the funds not needed by the Canada Pension Plan (CPP) to pay current benefits on behalf of 18 million Canadian contributors and beneficiaries. In order to build a diversified portfolio of CPP assets, CPPIB invests in public equities, private equities, real estate, infrastructure and fixed income instruments. Headquartered in Toronto, with offices in Hong Kong, London, New York City and São Paulo, CPPIB is governed and managed independently of the Canada Pension Plan and at arm's length from governments. At June 30, 2014, the CPP Fund totalled $226.8 billion. For more information about CPPIB, please visit www.cppib.com.
Article Contacts
FOR MORE INFORMATION CONTACT: