With roughly 17.5% of the world's population and an economy whose growth has is outpaced the world, India represents a key market for us. The opening of our office in Mumbai on October 27th 2015, in India's financial capital, was a significant milestone in our evolution to being a truly global investment organization. Our new Mumbai office is our sixth internationally, joining existing operations in Hong Kong, London, Luxembourg, New York and Sao Paulo.
Having a presence in India with strong local talent will enable us to scout, source and manage complex investment opportunities. Our new office will help us build relationships with partners, leading family groups, government, and the media.
Why are we investing in India? India has an advantageous demographic profile, a growing middle class, and a healthy financial system. Along with this, our long-term investment horizon aligns well with the financing needs of India's economy, business conglomerates, and entrepreneurs. One area of potential alignment is in infrastructure: India's rapid economic growth along with demand for railways, roads, ports, airports, telecommunications, and electricity generation. Our ability to provide patient, long-term capital positions us well to partner on some of these projects.
We have already made a number of investments in India, in a variety of sectors, including:
• an information technology park in Chennai with our partner the Shapoorji Pallonji Group;
• an infrastructure investment with Larsen & Toubro, the country's largest engineering and construction company;
• an alliance with Piramal Enterprises Limited to provide structured debt financing to residential projects across India's major urban centres;
• and a significant investment in financial services through our ownership interest in Kotak Mahindra Bank.
All of these investments represent long-term commitments of capital.
Leaders from India attended the official office opening hosted by Mark Wiseman, President & CEO, Mark Machin, Senior Managing Director and Head of International, Graeme Eadie, Senior Managing Director and Global Head of Real Estate Investments, and other representatives. Highly respected, Indian Minister of State for Finance, Jayant Sinha, was the event's Chief Guest and guest speaker. In his speech, Minister Sinha made it clear that, as we seek to establish and grow our presence in India, the government will be an engaged and responsive partner. This signals India's commitment to partnering with long-term foreign investors like CPPIB.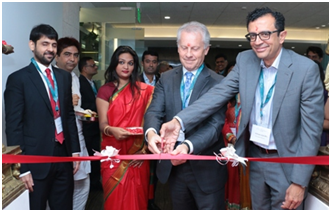 Vikram Desai (Principal, International CPPIB), Hindu Priest Shri Kukreti, Deepali Sharma (CPPIB Mumbai Office Manager & Corporate Secretary), Nick Zelenczuk (CPPIB Senior Managing Director & Chief Operations Officer), Vikram Gandhi (Founder & CEO, VSG Capital Advisors & Senior Advisor to CPPIB).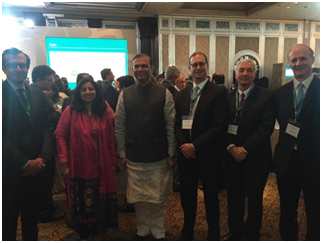 CPPIB Office Opening:  Vikram Gandhi, India's Minister of State for Finance Jayant Sinha and wife Punita Kumar Sinha, Mark Wiseman, Graeme Eadie, Mark Machin.
Article Contacts
FOR MORE INFORMATION CONTACT:
CPPIB
Dan Madge
Senior Manager, Media Relations
T: +1 416 868 8629
dmadge@cppib.com