The FCT group is responsible for CPP Investments' financing activities, including collateral management and sourcing of liquidity through secured and unsecured issuances as well as synthetic financing. The group is also responsible for the asset/liability management of the portfolio.
Finally, FCT oversees CPP Investments' centralized trading in major public markets on behalf of our investment teams and the balancing portfolio. The team operates from CPP Investments' Toronto office.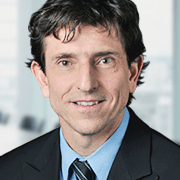 Chris Roper
Managing Director, Head of Financing, Collateral & Trading
Chris joined CPP Investments in 2008 focusing initially on active management programs. He has been responsible for a number of groups including Short Horizon Alpha, Cash and Liquidity Group, and is currently heading the Financing, Collateral & Trading area which oversees fund financing, balance sheet management and trading activities within the Capital Markets and Factor Investing department.
Chris has over 25 years of investment and trading experience with both domestic and international institutions. Prior to joining CPP Investments, he was Managing Director in Structured Finance at BMO Capital Markets, Co-Head Structured Finance at Scotia Capital, and traded a wide range of derivatives across multiple products at Citibank.
Chris holds a degree in Engineering Physics from McMaster University and an MBA from Queen's University.