CPPIB: A sense of purpose and giving back   
At CPPIB, we are united and motivated by our shared sense of purpose — to help provide Canadians with a foundation for financial security in retirement. It's this same sense of purpose that compels our employees to give back to our communities, through both personal and collective activities. We're humbled by our responsibility. And we're proud of the efforts our employees make to improve the lives of others.
Getting involved in our communities
One of the ways our employees give back is through our "Get Involved" program which organizes volunteer events related to environmental, economic and social issues. This past year, more than 200 employees volunteered their time and talents through 21 Get Involved events, including blood donation drives, cooking and serving meals at various drop-in centres, renovating playgrounds and providing repairs at a local shelter.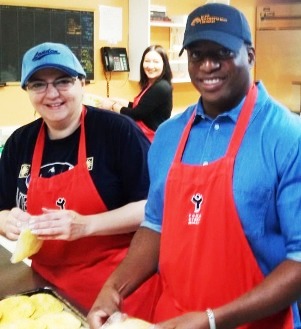 CPPIB employees giving back through Get Involved
Giving through the United Way
Another important giving tradition is our annual United Way Campaign. We have been partnering with the United Way Toronto & York Region for more than 17 years, raising close to $3.9 million over this time. In the past five years alone, individual donations by employees have tripled.
"We may be a relatively small organization, but we give back with the same spirit and commitment we bring to our work at CPPIB," says Mark Wiseman, CEO & President of CPPIB. Mark is not only a long-time supporter of the United Way but also acted as 2015 United Way Campaign Chair for Toronto & York Region, while championing CPPIB's own campaign.
In 2015 our employees raised a record $908,784 – almost double the 2014 total — and we raised well above our goal of $500,000 specifically for the United Way and its member agencies, through both campaign activities and an internal giving campaign.
"The fundraising campaign is something employees look forward to every fall," says Barry Rowland, Chair of CPPIB's United Way leadership campaign. Co-chair Geoff Souter adds, "We hold a number of events that just get more and more popular every year, including our Pancake Breakfast competition, a spelling bee and our annual charity hockey game against our peers at the Ontario Teachers' Pension Plan – which we were very proud to win last year."
In addition to our internal campaign, employees also took part in various community fundraising events, including the CN Tower Climb and the Rat Race 5K fun run through downtown Toronto, where in 2015, CPPIB placed second among participating companies in raising the most funds.
The senior management team also leads by example. Each year, they participate in a United Way "Day of Caring" volunteer event, rolling up their sleeves to give back through activities such as creating a welcoming exterior for a local emergency youth shelter through much-needed maintenance and landscape improvements.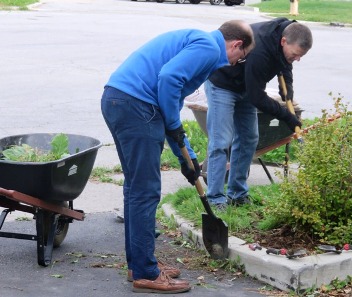 CEO Mark Wiseman and Senior Managing Director Mark Jenkins at work at a local youth shelter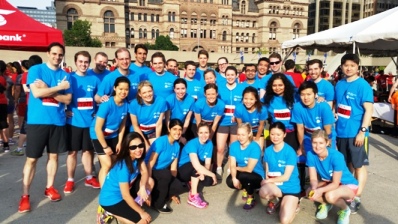 Team CPPIB prepares for the 2015 Rat Race 5K run for charity
"These funds make a direct impact on people's lives," said Tony Fedun of the United Way Toronto & York Region. "We hear from people all the time who received support from a United Way agency or program, and that it  made a real difference at a time when they were alone, vulnerable and without hope. We depend on the incredible generosity and commitment of organizations like CPPIB, which has been a role model through its United Way donations."
CPPIB was recently honoured for the fourth time with a United Way Spirit Award – in recognition of our 2015 leadership campaign, which recognized our employees who donated $1,200 or more.