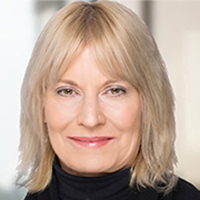 Judy Wade
Managing Director, Global Leadership Team and Head of San Francisco
Judy heads our San Francisco Office and oversees our Bay Area growth strategy.
Prior to joining CPP Investments in 2020, Judy led McKinsey & Company's practice serving startups and their investors. She also spent 10 years as a CEO or Senior Executive in various startups in gaming, digital health and big data. She started her career at McKinsey focused on education and technology.
Judy holds a Masters in Public Policy from Harvard's Kennedy School and a BA in Economics from University of California, Berkeley.
Judy is co-Chair of the Board of UC Berkeley's College of Letters & Science.