Adriana Morrison, Senior Associate on CPPIB's Sustainable Investing team, has closely followed the increasing investor focus on gender diversity and regularly evaluates opportunities for CPPIB to work with portfolio companies on issues pertaining to board diversity and effectiveness.
Her efforts in this area have driven the inclusion of board effectiveness as a formal focus area for 2018 and beyond.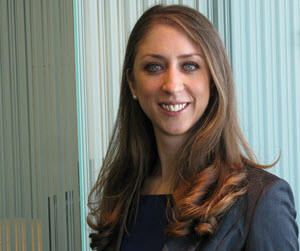 Q: Why have we added board effectiveness as its own focus area?
A: An effective board directly links to positive long-term company value, and that's the driving factor behind all of our ESG work. Formalizing board effectiveness as a focus area allows us to be more proactive and create a top-down strategy on how we'll be overseeing the issues related to it. We purposely chose to call the focus area Board Effectiveness – which is intentionally broad – to avoid pigeonholing us into looking at just a few aspects.
Q: How do you evaluate board effectiveness?
A: We look at two aspects: attributes and processes. Evaluating attributes means looking at things like director independence, skill sets, diversity and other characteristics of a company's existing board. On the process side, we examine a range of board processes. What are the board's evaluation processes and how is feedback used to determine its future needs? What's the director nomination process? How are directors selected? How does the board determine when they need refreshment? What's the process for determining when it needs to bring on new directors, or when a current director needs to step off?
Q: Can you discuss your group's work on gender diversity and how it fits into the new focus area?
A: Our gender diversity work has been one catalyst for the new focus area. We identified lack of gender diversity on the boards of our investee companies as a business and financial risk a few years ago and have since ramped up our proactive work to address this issue in a number of ways. Over the past year I've personally spoken with roughly 40 companies where we've had concerns about their board diversity and composition, and one of the things I'm finding is that directors will say, "We are very interested in having a diverse board but our primary focus is selecting directors based on merit." And I reply, "We don't want you to put someone unqualified on the board, but tell me, how did you find your last director?" If the answer is that they canvassed the current board members who brought forward five names, all men, and after interviews chose the best from that group, then we have a right to ask, "Are we sure they got the best person?"
We follow those expressions of concern with a more detailed conversation about how to professionalize the process and open it up to a broader pool of candidates. Based on how they respond, we can then follow up to determine whether progress is being made, and how quickly. Every interaction is different, depending on what kind of story they have to tell and how willing they are to make changes. Last year we adopted what I think was a market-leading voting practice; to start voting against nominating committee chairs at companies with no female directors.
This year, we ramped that up. If we contacted a company last year and ended up voting against their nominating committee chair, and then see there's been no progress this year, we're voting against the entire nominating committee.
Q: What trends are we seeing more broadly around board effectiveness?
A: Over the past few years, we have seen a surge in attention to board effectiveness topics by investors, companies and others. Board effectiveness has become central to the governance conversation. We have seen a particularly intense focus on board gender diversity, as well as a growing focus on board skills matrices and board competency to deal with emerging risks such as climate change and cybersecurity.
It's coming up a lot more in governance circles, because we've seen high-profile examples where board oversight issues have been very destructive for the company. As opposed to waiting until there's been a huge scandal, we're trying to be proactive and make sure we have the right oversight structure in place to capture and address these issues before they turn into something that can destroy company value.