Participating in global Pride events connects all our employees and educates them about how diversity fosters a consistent company culture of inclusion. Promoting an inclusive mindset ultimately grows potential candidate pipeline and encourages diversity of thought and opinion that is crucial to success.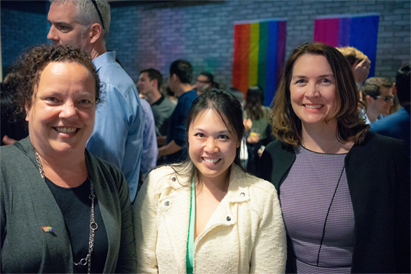 This month, CPPIB employees worldwide took part in many celebrations ranging from company receptions and a lunch & learn to a community-wide march and a joint CPPIB and TD sponsored executive event promoting LGBT+ representation in the financial
industry.
Receptions held across many of our global offices provide supportive spaces for members and allies of the LGBT+ community to celebrate inclusion with colleagues and foster a community of mutual respect. "Allies help build a workplace climate where LGBT+ employees can be themselves, without fear of jeopardizing their careers or diminishing their personal security and well-being," says our President and CEO, Mark Machin.
On June 12, our Toronto office reception kicked off festivities with a company band and local drag performers; and on June 21, our New York office reception provided an immersive opportunity to learn about Greenwich Village's vital role in spearheading the global LGBT+ movement.
With receptions in São Paulo and London slated for the coming weeks, we're excited to have senior leadership's continued presence and support. 
Vocal executive support illustrates the importance of diversity across all levels of our organization and proves differences are not only welcomed, but celebrated. This encourages employees to bring their whole-selves to work, and helps them reach their full potentials in rewarding careers that add significant business value. "Commitment from the top is a powerful driver of change for any organization," Mark Machin explains.
And every employee plays a part in fostering our safe and inclusive workplace. Two of our employee-led groups, Women's Initiative Network (WIN) and Out@CPPIB (Out), co-hosted an allyship lunch & learn at our Toronto office on June 20. Employees learned about using gender-neutral language and confronting offensive comments, helping our teams recognize bias and enforcing the need to fight for equality both inside and outside of the workplace.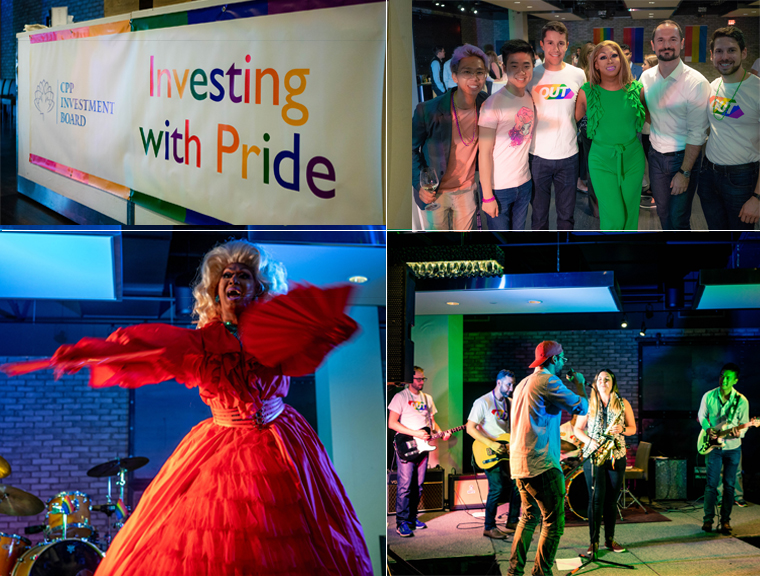 At the Toronto Pride March, many CPPIB employees stood alongside their colleagues and the community to show our commitment to inclusion and challenging outdated industry norms. Marching in solidarity with other champions of diversity sends an important message to both employees and the general public – our presence as an employer and investor signals industry-wide change.
The next day, Mark Machin partnered with TD Securities and LGBT in Capital Markets to lead a panel discussion, Challenging Bay Street to Act on LGBT+ Inclusion, an open and honest conversation about inclusiveness in the financial industry. His remarks highlighted that exclusion, not inclusion, is the industry norm and that we must work together to drive much-needed change.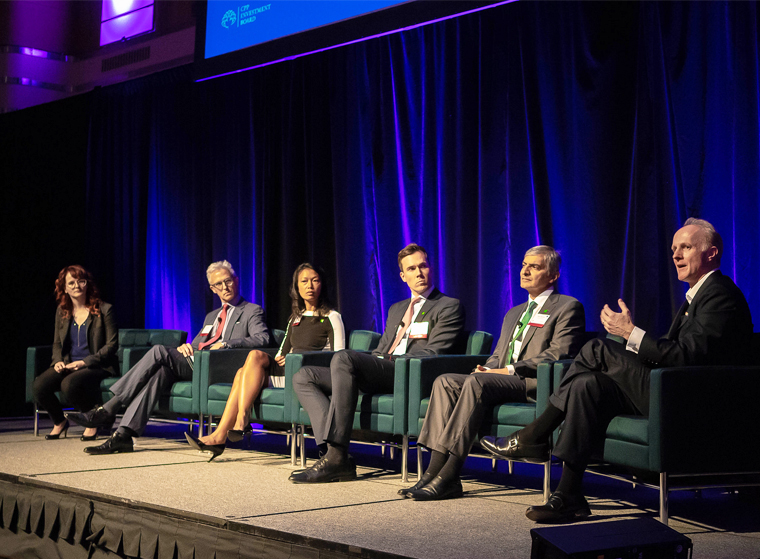 Panelists from left to right: Alexandra Posadzki, Report on Business, The Globe and Mail; Brad Berg, Partner, Blake, Cassels & Graydon LLP; Sharon Chung, Senior Manager, Diversity Sourcing, TD Bank Group; Matt Boelen, Director, TD Securities; Riaz Ahmed, CFO, TD Bank Group; Mark Machin, President and CEO, CPPIB.
Still, inclusion and diversity can't be mere month-long commitments; they have to be ingrained in our workplace culture and fostered every day. Not only because it's the right thing to do, but because it's been proven to make good business sense.
Diverse groups pool insights from broad ranges of experiences to drive smarter business decisions. Bias has no place in our meritocracy; gender, race, sexuality, and religion have no impact on our decisions. CPPIB carefully hires from a diverse group of candidates to access the best minds and to leverage the diversity of thought crucial to our success.
In an industry that has a reputation for dissuading diverse candidates from pursuing careers in finance, CPPIB must act boldly to rewrite the book. CPPIB is committed to spearheading growth of employee-led initiatives and vigorously advocating for acceptance of diversity on a global scale.
The results will continue to speak for themselves.
Happy Pride!