We believe that being an active and engaged owner of
companies in which we invest helps us to optimize their long-term value, which
in turn helps to safeguard the CPP Fund. One of the core ways we engage with
the public companies we invest in is by voting at their shareholder meetings. This
is a critical way to convey our views on company affairs and to influence
decisions of the board of directors and management. This is acting in the best
interest of our over 19 million contributors and beneficiaries.
With a minority ownership position in more than 2,700
publicly traded companies, listed in over 45 countries, that's a lot of
influencing. Public market equities account for almost one of every three
dollars we manage – making it our largest asset class by a sizeable margin.
CPPIB votes at shareholder meetings by proxy, which means we
submit our votes through an online voting platform. To give a sense of the
scale of our voting activities, in the year ended June 30, 2016, CPPIB voted on
more than 51,000 items at almost 5,000 shareholder meetings. These meetings
took place in all regions of the world, with the majority in Asia-Pacific
(1,936) followed by North America (1,878) and Europe (644). 
​Most of these meetings are
concentrated into the three-month period between April and June (so-called
"proxy season"), during which we might vote at over 300 meetings in a single
week.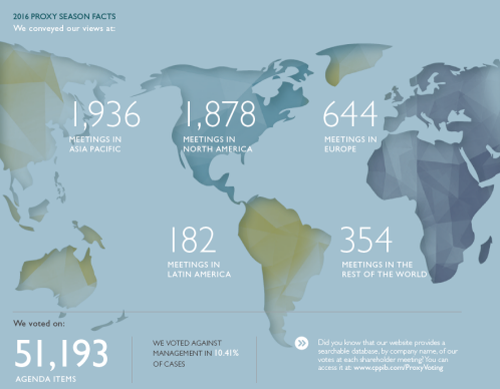 The items on which we vote vary depending on the market
requirements that apply and on the issues specific to the industry or company. Some
items come up regularly, such as electing directors and approving dividends. Others
come up less often, such as votes on unusual compensation issues or special
items put forward by management or shareholders.
One of the key items we vote on is so-called "Say on Pay" votes,
which give shareholders the ability to provide direct feedback on compensation
decisions. We believe that "Say on Pay" votes encourage better
investor-corporate dialogue on executive compensation, leading to improved
disclosure and pay practices.
For the year ended June 30,
2016, CPPIB voted against 17% of the "Say on Pay" proposals we considered. We
evaluate these proposals on a case-by-case basis. One key factor we look at is whether the company appropriately
aligned executive pay with long-term company performance. During the same
period, CPPIB supported 58% of the shareholder proposals we voted on that pushed
to strengthen pay and performance alignment and help mitigate
compensation-related risk.

CPPIB has a transparent approach to proxy voting. Our Proxy
Voting Principles and Guidelines provide clear guidance on how we are
likely to vote. We also list all the issues we voted on and how we voted on our
website.
Search by company name and you can access our entire voting record for that
company.
More information about our 2016 proxy voting activity is available
in our latest Report on Sustainable Investing.