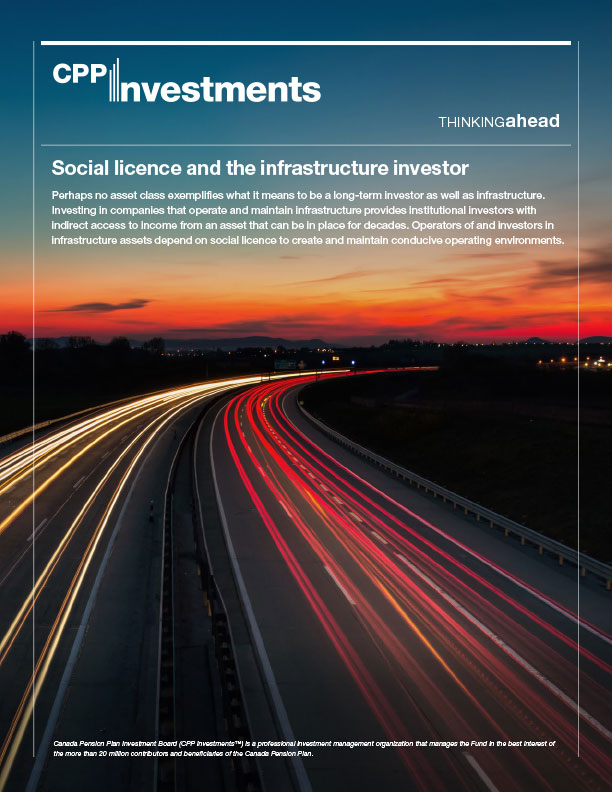 Perhaps no asset class exemplifies what it means to be a long-term investor as well as infrastructure. Investing in companies that operate and maintain infrastructure provides institutional investors with indirect access to income from an asset that can be in place for decades.
Operators of and investors in infrastructure assets depend on social licence to create and maintain conducive operating environments.
At CPP Investments, part of maximizing investment returns and fulfilling our mandate is ensuring, through our engagement, voting and capital allocation decisions, that operators and management are appropriately prioritizing their social licence.
We strive to be an expert long-term capital partner in our infrastructure investments, which now span five continents. Expert long-term capital partners bring more than just funds to a partnership. They bring experience, greater understanding of factors, including environmental, social and governance issues, and a sense of purpose.
Alongside our partners, we work to ensure our investments provide an excellent and safe service, bolstering their social licence. In this way, we obtain and sustain local support to earn a reasonable return far into the future, adding resilience to our overall portfolio while creating value in the communities we operate in worldwide.
For more information, please contact:
Scott Lawrence
Managing Director, Head of Infrastructure
Global Leadership Team
slawrence@cppib.com
Neil King
Managing Director, Infrastructure
Global Leadership Team
nking@cppib.com